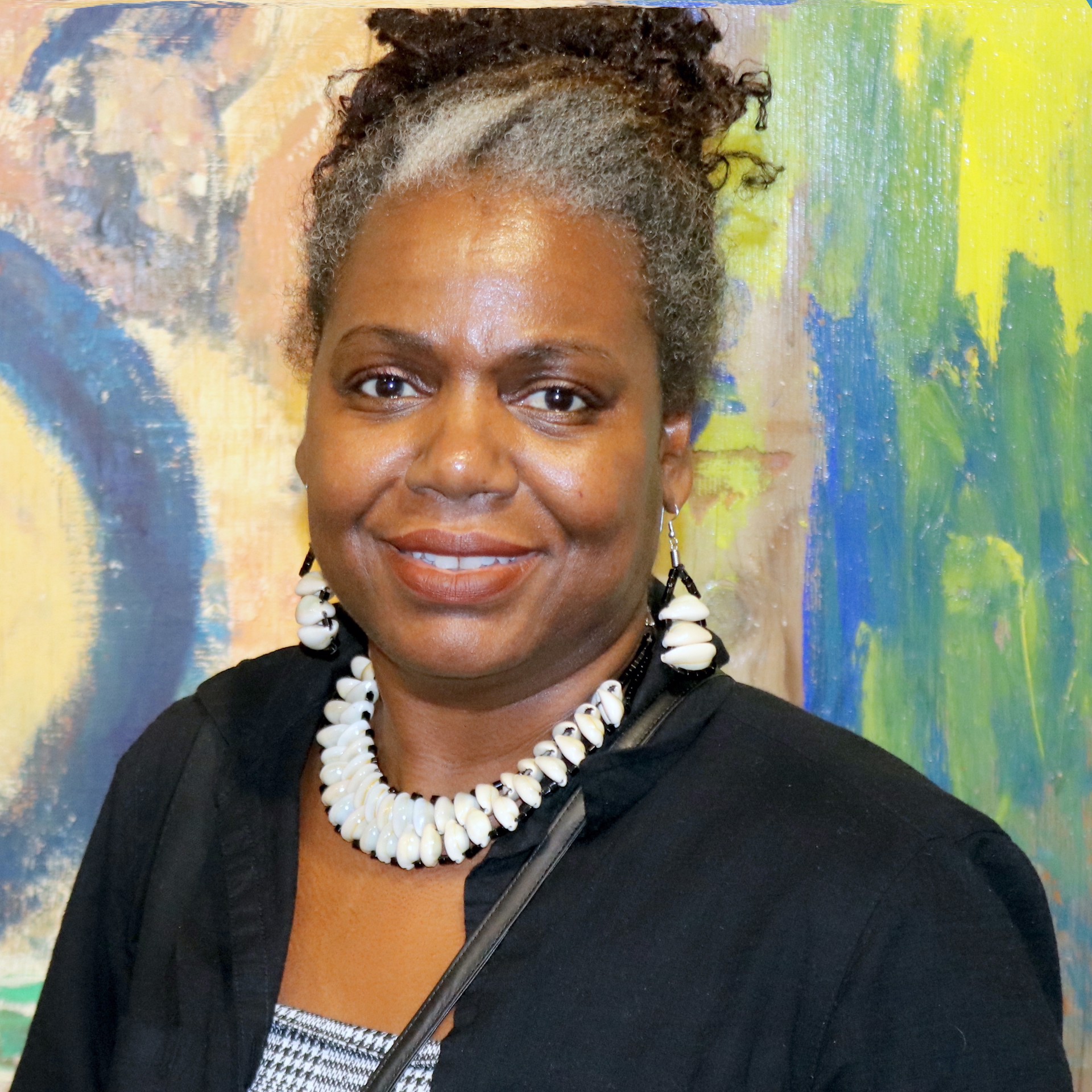 Born in Georgetown, Guyana, South America. At the age of nine she came to the United States and settled in Brooklyn, New York.
Richlin attended Clara Barton High School and took art classes at the Brooklyn Museum. She also attended Rochester Institute of Technology in Rochester, NY, The School of visual Arts, New York City studied graphic design.
In 1991 she married artist, Weldon Ryan, and started a family. With her husband started Rich and Well graphics, Inc. Later she worked as the Art Director of IDD Magazine for Thompson Financial, NYC. In 2004 she moved to Palm Coast Florida with her family and continued working as a graphic designer. She created Greenup Magazine, Voice Youth Magazine for the Florida Endowment Foundation, and was the creative art director for OVT magazine. In 2016 Richlin and Weldon Ryan opened Calypso Fine Art Gallery. Presently she is a full time artist and curates art exhibitions for Bethune-Cookman University Performing Arts Center and Visual Gallery; and the Yvonne Scarlett-Golden Cultural and Educational Gallery.
Artist Statement
My art is an exploration of the materials I'm drawn to use in expressing my creativity. The journey taken is planned with the expectation of new discoveries. The ultimate goal is to push the boundaries and investigate the possibilities of what could be.
Discovering new possibilities is my favorite part of creating art; why I enjoy work with mixed media on canvas. This body of work explores the color play of tissue paper with acrylic paints and inks, which allow me to create amazing translucent color interactions and texture. I prefer to use the least toxic material due to over exposure to rubber cement early in my art career.
My process begins by removing all color and shade from my photographic reference. By reducing the image to a liner or solid black and white form on the canvas, I create drama with the dominant characteristics of my subject. I then reintroduce color to vacant spaces, sometimes overlapping the form. These abstract color shapes create volume, shade and texture to the piece organically. I work intuitively mostly with some degree of planning. I intentionally use bold vivid colors because I want my work to be spiritually free and expressive to the viewer. I want the viewer of my work to feel my passion for the subject, and to be transported into the world I create.
My goal as an artist is to encourage joy and freedom. Even in my more socially conscious works the use of vivid colors gives the viewer hope. I believe there is an inner spiritual navigator that allows me to trust in the discovery and eventual outcome of my art. Not all is successful, however, the journey is always worth it.
You can visit Richlin's website to view more of her work here.
Read More