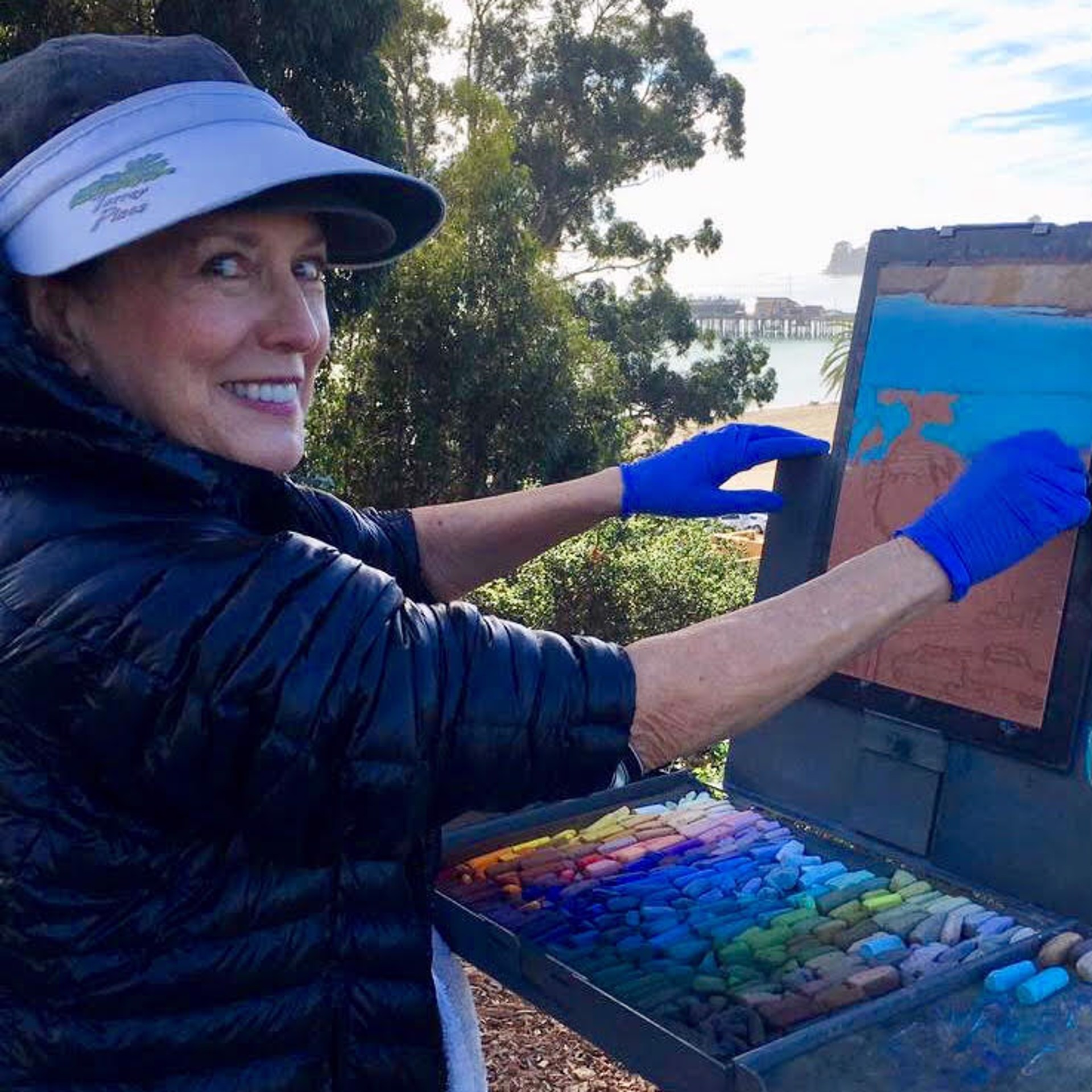 Marti Walker spent her childhood living and studying in Europe - France, Germany and Switzerland. She graduated from University of Colorado where she majored in French and Anthropology. As a flight attendant for Pan Am, she continued her travels throughout the world. She moved to Sacramento after a blizzard destroyed her home, car and job in Boston. In sunny Sacramento, she submerged herself in hiking and biking, spending as much time as possible in the High Sierras and along the coast. She took up art initially as a pastime during her solo travels around the world. She now shares her passion for nature with her husband Collin with whom she travels extensively throughout the US and Canada, making yearly one to two month trips in their beloved Mercedes Sprinter which Collin converted into a tiny home on wheels.

While immersed in corporate life and then as a Realtor for 30+ years, art has always been her antidote to the rigors of her working life. From her first exposure to painting, she has had something 'on the easel'. Initially a watercolorist, she traveled throughout the world, recording her adventures on small pieces and in journals. At home, she continued with watercolors and added oils to her repertoire. On her first exposure to soft pastels, she immediately chose them as her medium of choice. Gallery representation soon followed and today, even though she continues to do oil and watercolor studies, pastels are the medium of her gallery and plein air work.

"With pastels, I can produce textures from sweeping 'brush' strokes to fine lines. That variability allows me to invoke whatever mood I wish in any of the passages."

Marti's passion is painting en plein air (french for on-site/outdoors). Changing light and weather dictate the necessity to capture the essence of a scene quickly all the while being mindful and memorizing every nuance of it. The key to a successful attempt is, to her, concentrating on a strong design and value contrasts in the shapes. She has participated in 5-7 juried Plein Air Events each year for over 15 years, including such Juried events as the Carmel Art Festival, Los Gatos Plein Air, Alameda's Plein Air Paint Out and the Capitola Plein Air. Winters and inclement weather are good studio times for experimentation.

"I find the competition at Plein Air Events is with myself, to see how far and fast I can stretch to produce a small body of work in a limited time. After each event, I know I have grown in my abilities by pushing myself."

Walker is a Signature Member of California Plein Air Painters (CPAP) and (former) Sierra Pastel Society (SPS), a member of the Pastel Society of America (PSA) and the Pastel Society of the West Coast (PSWC). She is also a member of the California Art Club and American Impressionist Society.

"My connectedness to nature and my wish to commemorate its abstract beauty compels me to describe my physical surroundings. Painting allows me to reveal my inner self and our place in the universe by celebrating the grandeur that surrounds us. I love the immediacy of what I can achieve by painting on location. I find the pressure to complete a painting before the light changes to be thrilling. I enjoy the challenge of giving the viewer the experience of my unique interpretation of the scene and hope to transport them there, alone and at peace with nature".

You can visit Marti's website to view more of her work here.
Read More