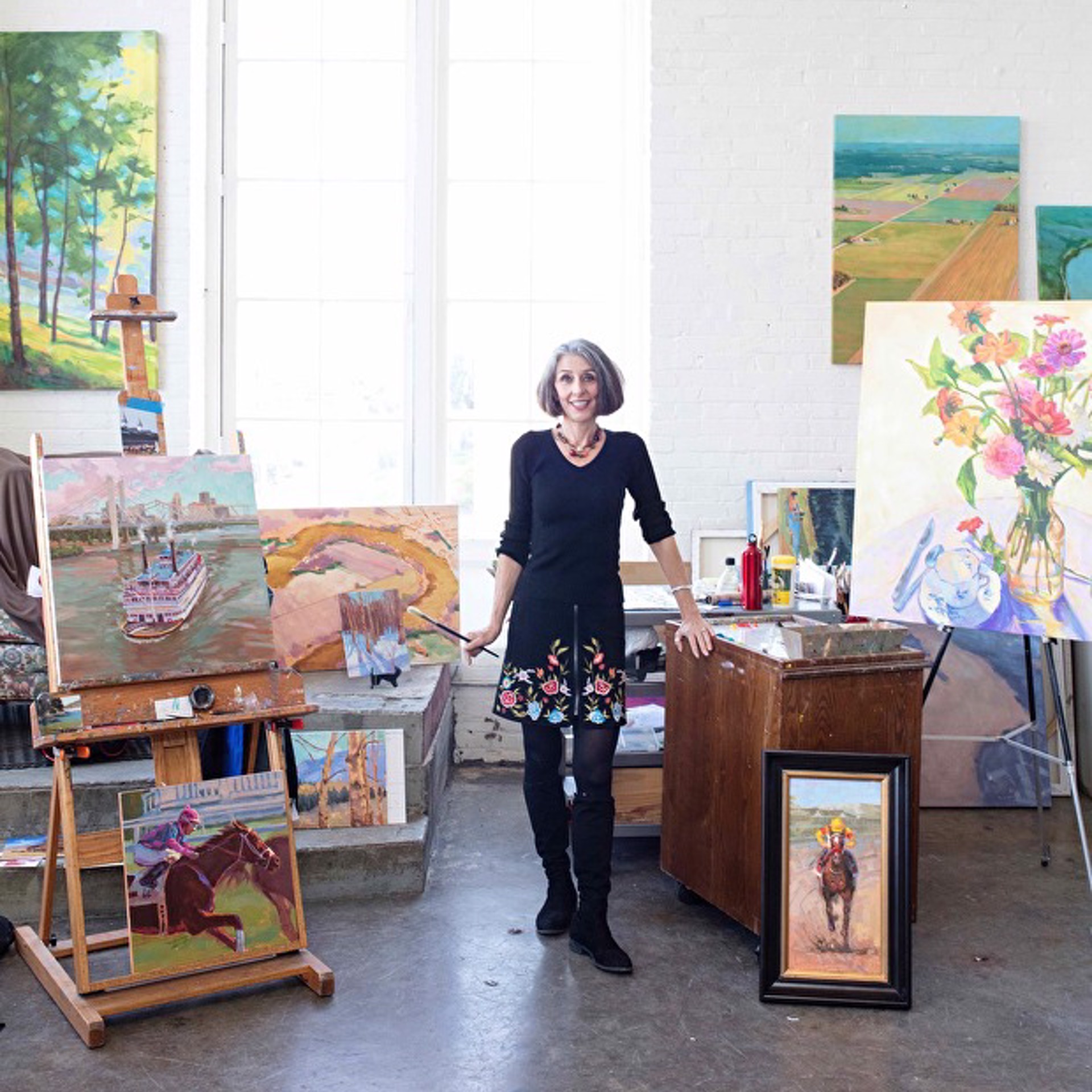 Beauty abounds in the hills, rivers and fields of Kentucky and Indiana. Plein air oil painting allows Lynn Dunbar to be amidst nature, breathing the fresh air, hearing the birds sing, and feeling the sun, breeze (and sometimes rain) against her skin while attempting to paint a "masterpiece." Painting is Lynn's divine connection with the earth. These plein air studies are taken back to the studio where she applies the sense of light and color to her larger landscape and aerial work. Her light filled studio, at Hope Mills building is inspiring. She is grateful for all these gifts.

Adventurous and a tad off kilter, sorta like her aerial oil paintings, is one way to describe Lynn. Color and composition fill her paintings, as exemplified by the artists she admires; William Wendt, Edgar Payne and Sergei Bongart. Lynn started her art career as an advertising art director, and found her way to oil painting through workshops with Wolf Kahn, John Michael Carter, Jill Carver, Bill Fletcher and Skip Whitcomb.

Her colorful Impressionist style reflects her ability at Capturing the Spirit of Kentucky©. Her work includes paintings, drawings, prints, and sculpture reflecting horse racing, Louisville and the Kentucky area. Her artwork is featured on the 2018 Kentucky Derby and Oaks Posters available at Churchill Downs, and is also featured on the 2018 Holiday Edition of Woodford Reserve Bourbon.

Dunbar has participated in, and won awards for her oil paintings in plein air competitions on the local and national level. Other awards include Purchase Prize in the 2019 American Impressionist Small Works Show in Petosky, Michigan, Award of Merit 2016, Owensboro Museum of Art, Science and History, Grand Prize Portland Heritage Arts Show 2014, honorable mention at the Salon International 2013, the 2012 Purchase Prize from the Owensboro Museum of Art, and the 2011 Grand Prize from the Louisville Women's Club, and her work is featured in the September 2017 Plein Air Magazine. Her memberships include Signature Status of American Impressionist Society, Indiana Plein Air Painters and Painters of the Bluegrass.

In memory of her son, the artist donates a portion of the proceeds to childhood cancer charities.
Read More