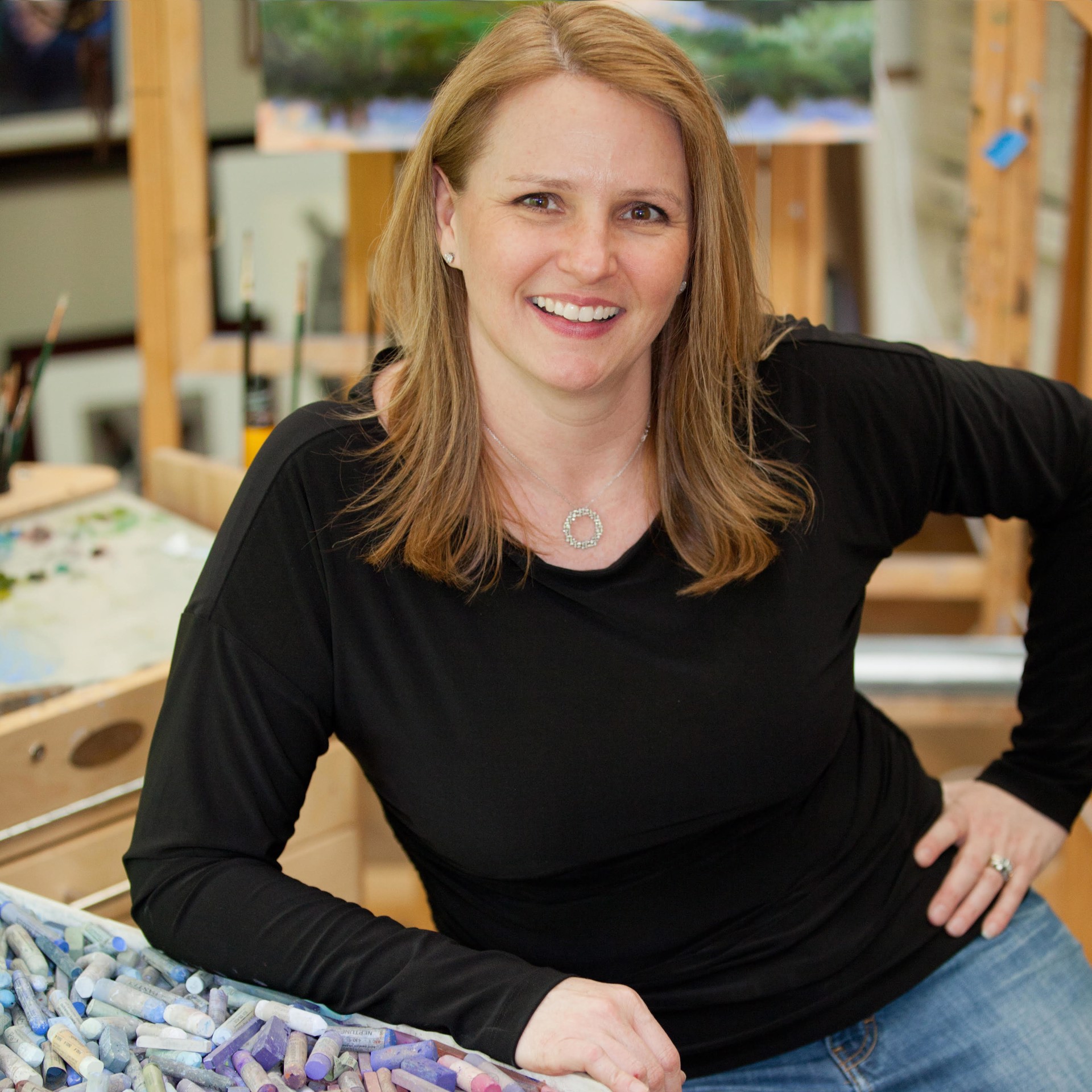 Lisa Gleim is an award-winning pastel artist and a graduate of the Pennsylvania Academy of the Fine Arts. She is the Audubon Artists 2012 & 2016 Gold Medal of Honor for Pastel recipient, Audubon Artists 2013 Art Spirit Foundation's Gold Medal Award for Pastel and the Audubon Artists 2019 Art Spirit Foundation's Silver Medal Award for Pastel recipient. In 2016 she was named the Atlanta Branch of the National League of Pen Women's Artist of the Year. Her painting The Secret Keepers was acquired by the Booth Western Art Museum in 2020 as part of their permanent collection.


Working in pastel, Lisa is particularly interested in capturing the beauty of light and how it affects her subjects. She paints on location as often as possible—her destinations of choice are usually coastal regions of the East Coast and the mountains of Montana.

Lisa has exhibited her work around the country in numerous juried and invitational exhibitions, including the Booth Western Art Museum in Cartersville, GA; Briscoe Western Art Museum in San Antonio, TX; Haggin Museum of Art in Stockton, CA; Marietta Cobb Museum of Art in metro Atlanta; Customs House Museum in Tennessee; Harbor History Museum in Tacoma, Washington; Gibbes Museum of Art in Charleston, South Carolina; and the Gertrude Herbert Museum in Augusta, Georgia. Her works are also held in many private collections throughout the world, including the Children's Hospital of Philadelphia, Orthopaedic Division; the chambers of the Honorable Vice-Chancellor Jack B. Jacobs in Wilmington, Delaware; Astra-Zeneca Pharmaceutical in Valley Forge, Pennsylvania; and of Mayor Eva Galambos at Sandy Springs City Hall in suburban Atlanta. She has also been a returning juror for the Atlanta Arts Festival, the Virginia Highland Festival and the International Art Competition of the Boys & Girls Clubs of America.

Lisa is a Master Circle Member of the International Association of Pastel Societies (IAPS/MC); Signature Member and Board Member of the American Women Artists (AWA); Signature Member of Artists For Conservation (AFC); Signature Member of the American Society of Marine Artists (ASMA) and Pastel Society of American (PSA); Elected Member of Audubon Artists; Fellow Maxima Cum Laude and Associate Board Member American Artists Professional League; Member of Excellence, Signature Member and past President (2016-18) of the Southeastern Pastel Society (SPS); Associate Member of the Society of Animal Artists, Allied Artists of America and American Impressionist Society; and a co-founder of the Atlanta Fine Arts League.

After studying and working in Philadelphia for eight years, Lisa moved back to her hometown of Atlanta where she maintains her studio and residence with her husband, daughter and three rescue dogs. She also spends as much time as possible at her second home in Big Sky, Montana.

Lisa's work is represented by Cheryl Newby Gallery, Creighton Block Gallery, Atlanta Artist Collective, Lovetts Gallery, Beverly McNeil Gallery, and has been sold through One Kings Lane, Serena & Lily, Singulart and Saatchi Art.

You can visit Lisa's website to view more of her work here.
Read More