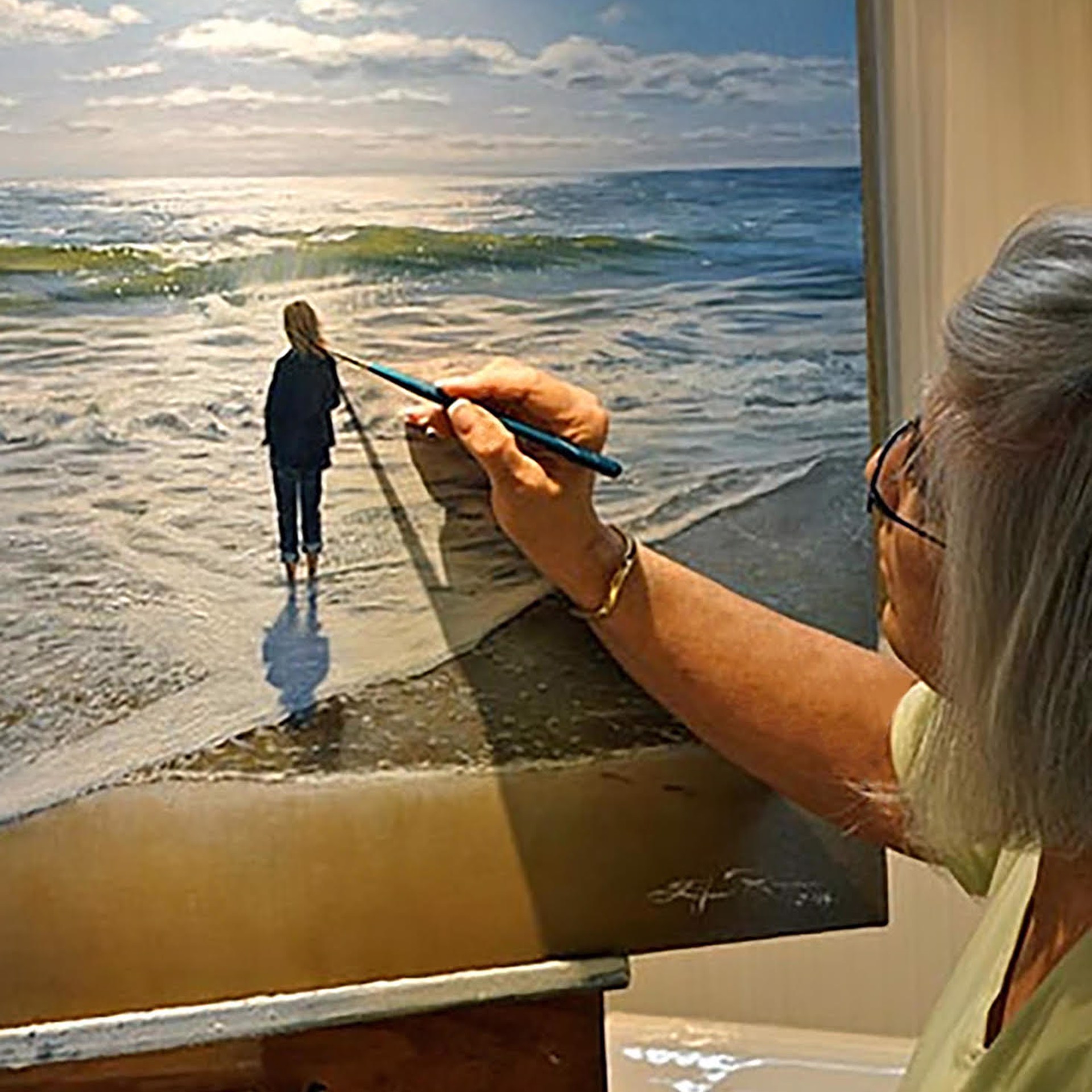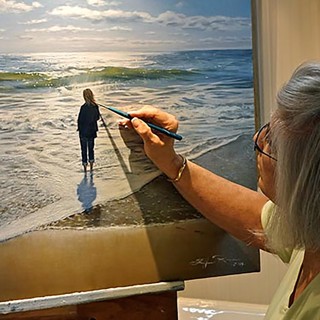 One of the things I remember most about my earliest years is being surrounded by beautiful paintings and listening to classical piano played every evening in the home of my grandparents in Washington, New York and Charleston. Culture was a natural part of everyday life.

My mother had studied fine art at Corcoran. My grandfather was a highly respected Navy physician, research scientist, inventor, textbook author and lecturer who could have chosen to be a concert pianist instead. My grandmother was an insightful and loving example of all that motherhood can be, who also had the greenest thumb of anyone I ever knew.

I was continually drawn to study the beautiful art in our home, but I can safely say I never thought of making a career of painting. Paths I took led me here in a very winding way.

As a child, I was handed crayons, paper and coloring books whenever my mother didn't know what else to do with me. It was fun and also good eye and hand coordination training, but I used to sit across the table from my mother as she painted and know I could never do what she did.

Fast forward 60 years and my paintings can be found in private, corporate and government collections in 14 countries on four continents.

In my mother's last years of life, she would look at my work and say she wished she could do that. I would gently assure her that she had. It's strange the twists and turns our lives take. I had wanted to follow in my grandfather's footsteps in medicine, but was strongly discouraged, a remnant of the times. Instead I was encouraged to marry and have a family.

I got a job, married and at 21 became temporarily handicapped through a complication of childbirth. It was while recovering that I started drawing and painting again and one night an inspiration to do illustrations for the church page of the local weekly newspaper came to me in prayer.

A happenstance meeting with the paper's editor the next day opened that path, which in turn led to becoming a photojournalist, then writer, editor and eventually corporate liaison, learning as I went, always striving for excellence, often praying my way through how to do the projects I was handed. The awards followed.

After eight years, I left the paper and accepted the challenge of helping an acquaintance found a magazine, at the same time taking on PR clients and painting on the side, mostly portraits and landscapes, but also fundraising projects and commercial illustrations. The magazine was successful, but I left it when hit with another medical problem. It was as I prayed my way to health that my art took on more significance.

While I recovered, my mother revealed truths about my life. By a very roundabout route these discoveries led me to tackle a project very unlike anything I'd undertaken before: the research and creation of a historically accurate visual representation of the maritime history of the coast I've lived near most of my life.

Once in print, Treasure Beaches of the Mid-Atlantic was written about in papers across the country, put me on television and radio, landed my work in galleries throughout the US and its financial success freed me to start on a new path as a single female artist on her own for the first time in her life.

The next year my map was chosen to represent the State of Delaware on QVC. It was a sellout. The map's success drew attention to my other work and more opportunities opened, including one that would free me from doing art fairs and numerous difficult consignment situations. In 1999, I opened a small gallery of my own near my home in Ocean View, Delaware.

After 21 years, surviving recession, years of road construction, three moves and now Covid-19, the Ellen Rice Studio & Gallery is a mile inland from the beach on a rural road a half-mile from my home, welcoming guests not to its beautiful interior but in an "al fresco" exhibit in the studio's two-car garage and doing surprisingly well. I try not to question.

I don't have a long list of degrees, any instructors or many professional memberships. The constant study of the inner and outward beauty of life, books, experimentation and striving for excellence have been my instructors.

I've never looked at what I do as being in competition with others. I appreciate so many forms of art and different artists' works, some of whom are featured of this website. None of us can truly be in competition with anyone but ourselves. Realizing this is freeing.

We're each unique beings, and the closer to true honesty we are with ourselves the more our work resonates with the hearts and minds of others. Each painting is an exploration into that truth.

While I live by the ocean and have created and sold countless light-filled paintings of the coastal area in its many moods, the most collected of any of my works are those that have come to me as visions in prayer, chief among them my Strength of Woman Series.

I remember looking up at the stars as a young child, wondering about life, and praying that my life would be a blessing. Through all the challenges, that desire is the thread woven through all the paths I've taken.

You can visit Ellen's website to view more of her work here.
Read More